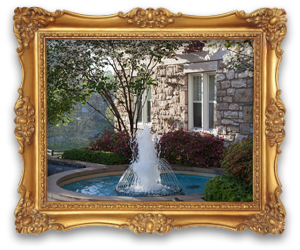 Rockhill Manor is located in the Southmoreland neighborhood, which is a diverse historical, arts, and museum residential district located just four miles south of downtown Kansas City.
According to an article in This Old House magazine, the neighborhood ranges from family friendly to funky, depending upon whom you ask. It's known for an eclectic nature, both in its architecture and its residents. Well-to-do families live in imposing Colonial Revival mansions side-by-side with young singles and couples. It is also home to hundreds of students from the Kansas City Art Institute, who reside in beautiful post-war brick apartment buildings.
Southmoreland is a walkable neighborhood, offering easy access to stores, schools, museums and cultural institutions, such as the Nelson-Atkins Museum of Art and the Kemper Museum of Contemporary Art. The Country Club Plaza and Southmoreland Park are also nearby, featuring nearly 200 specialty shops and restaurants, fountains, tennis courts, gardens, and an annual Shakespeare festival.
Other attractions include:
18th & Vine District
Airline History Museum
American Heartland Theatre
American Jazz Museum
American Royal Museum
Arboretum & Botanical Gardens
Arrowhead Stadium – Kansas City Chiefs
Boulevard Brewing Company
Casinos
The College Basketball Experience
Coterie Theatre
Crossroads Arts District
Crown Center
Deanna Rose Children's Farmstead
The Ewing and Muriel Kauffman Memorial Garden
Gottlieb Planetarium at Union Station
Hallmark Visitors Center
Kaleidoscope
Kansas City Convention Center
Kansas City Museum
Kansas City Public Library
Kansas City Renaissance Festival
Kansas City Roller Warriors
Kansas City Sculpture Park
Kansas City Symphony
Kansas City Repertory Theatre
Kansas City Zoo
Kauffman Center for the Performing Arts
Kauffman Stadium – Kansas City Royals
LEGOLAND Discovery Center
Liberty Memorial – National World War I Museum
Loose Park Rose Garden
Mill Creek Park
The Money Museum
Municipal Auditorium
NASCAR – Kansas Speedway
National Archives at Kansas City
Negro Leagues Baseball Museum
Powell Gardens
Quality Hill Playhouse
Science City at Union Station
SeaLife Aquarium
Sporting KC
Sprint Center
Starlight Theatre
State Ballet of Missouri
The Steamboat Arabia Museum
Thomas Hart Benton Home
The Toy & Miniature Museum of Kansas City
Truman Presidential Museum & Library
Union Station
University of Missouri-Kansas City
Westport
Worlds of Fun/Oceans of Fun
"All successful people are big dreamers. They imagine what their future could be, ideal in every respect, and then they work every day toward their distant vision, that goal or purpose."
"Your attitude, not your aptitude, will determine your altitude."
"The more we give love, the greater our capacity to do so."
"The key to success is to focus our conscious mind on things we desire not things we fear."
"The brain is like a muscle. When it is in use we feel very good. Understanding is joyous."
"You've got to fix the people first. Insiders and new people. Everything else flows from that. And in today's complex world, nobody does anything successful alone – it's all about teamwork."
"It doesn't matter where you are coming from. All that matters is where you are going."
"People create their own success by learning what they need to learn and then by practicing it until they become proficient at it."
"Intellectual growth should commence at birth and cease only at death."
"A mind at peace, a mind centered and not focused on harming others, is stronger than any physical force in the universe."
"What we think, we become."
"If you want to reach a goal, you must "see the reaching" in your own mind before you actually arrive at your goal."
"Love is the ability and willingness to allow those that you care for to be what they choose for themselves without any insistence that they satisfy you."
"In times of great stress or adversity, it's always best to keep busy, to plow your anger and your energy into something positive.
"Success is not for the timid. It is for those who seek guidance, make decisions, and take decisive action."
"We all have gifts: powers to varying degrees – and everyone has at least one gift – that is your particular piece of power. Acknowledging that you do have power is a major energy of change."
"If you do the right job then money will come to you. Because people who need you will request, will ask for you, will attract you, and will be willing to pay you for your services."
"Be thankful for what you have, you'll end up having more. If you concentrate on what you don't have, you will never ever have enough."
"You are the only person on earth who can use your ability."
"Hire great people and give them the freedom to be awesome."
"You are much grander than you think you are."
"Most successful people have attained their greatest success just one step beyond their greatest failure."